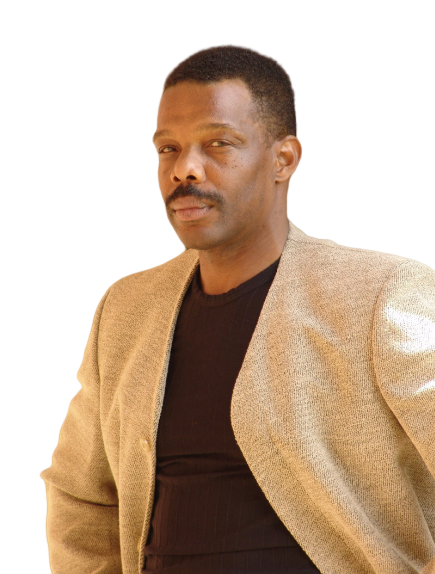 Kelvin O. Hardy
Modern Dance
Kelvin O. Hardy received his professional dance education at the Alvin Ailey School, the Philadelphia Dance Company, the Arthur Hall African American Dance Company, and Dartmouth College, among others. He has national and international performing experience in modern dance, musicals, nightclub shows, music videos and film. A few of these performing experiences include the Arthur Hall African Dance Company, Philadanco (Eclectic), Blue Mercury (Horton, Neo-Classical) choreography Loris Beckles with Ailey dancers, Rod Rodgers Dance, Brooklyn Dance Theater, Diane McIntyre Dance (Limón based), Laurie Devito Dance (Simonson based), European tour West Side Story, dancer original Chippendale's Show (Off-Broadway) New York, Cotton Club New York, "Wordsong" with Sharifa Khalig (dance, choreography, direction) Frankfurt, Germany, Curtain Call film Japan and own Dance Company (Lyrical Modern Jazz) "Rhythm and Motion".
Kelvin has taught generations of professional dancers at several professional schools, programs, and workshops throughout Europe. The short list for his teaching credentials includes Dartmouth College, Alvin Ailey, State Ballet School Berlin, Palucca School Dresden, Tanz Akadamie Zurich, Vienna State Ballet School, workshops and jury participation TanzOlymp Berlin, as well as training for Friedrichstadtpalast and the German Television Ballet. He was a member of the transitional three-member Leadership Team and consultant for modern dance at the Berlin Ballet School, 2021 and 2022. He has also prepared and administered numerous state approved final examinations
towards stage dance accreditation in contemporary, modern, improvisation, composition and taught jazz dance theory for the Abitur program.
Outside the many choreographies he has done for his company and for his students in the various educations there are a few highlights that should be mentioned Cabaret in Chemnitz 2003, Carmen "A Bigger Bounce" hip-hoppera in Zurich 2007, "Equinox Songs" House of World Cultures Berlin 2011 and "About Us" for the 75th anniversary Gala of the State Ballet School, Berlin January 2022 State Opera, Berlin. In addition, he has supported the artistic development of pre-teens and teens in the Berlin community at large with choreography for the Friedrichstadtpalast Youth Ensemble and the Children's Musical Theater Group, Berlin (KMTB).
And for decades he has taught at Marameo where he has trained people attracted to dance as a serious and passionate hobby in the evenings, this group is compelling because of their professional and intelligent outlook towards training and performing.
Contemporary Crossover Training
Kelvin's training is grounded in the rich cultural and artistic dance heritage of Americans of predominantly African decent and the African Diaspora, synthesized with essential modern dance traditions, Limón, Horton, Graham, and Cunningham, and supplemented with the emerging movement vocabulary of contemporary dance. He has refined and cultivated his ideas over time into a flexible composition of progressions that reflect his path from student to teacher, and choreographer. Evolving from his initial focus on the adaptability and flexibility found in modern jazz into a support system for creating authentic, expressive mixed movement (Kelvinized Dance) for a primarily lyrical choreographic style that emphasizes musicality and phrasing. This system simultaneously trains the articulation and execution necessary for signature movement.
Participants usually experience the training process as organic, empathetic, interactive, and situational. Significant improvement is guaranteed for those who train regularly, and are patient, passionate, honest, and courageous.
The contemporary crossover class is inspired by Kelvin's Dunham technique teacher, Arthur Hall, who taught a class so rich and unpredictable that it inexplicably made other techniques and styles more accessible to him early in his dance education.